Non-Surgical Spine & Pain Management
Thomas J. Kraus, DO, MBA, DAAPM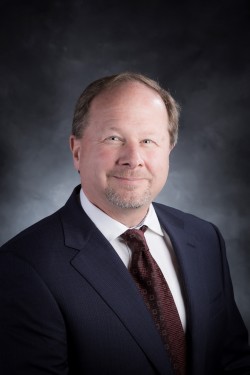 Areas of Expertise
Diagnosis & non-surgical treatment of the cervical, thoracic & lumbar spine
Nerve blocks – diagnostic & therapeutic
Hip, shoulder and knee injections
Sympathetic and stellate ganglion blocks
Occipital nerve blocks
Shingles and Diabetic nerve blocks
Pre and Post-surgical pain
Cancer pain
Neuoromodulation / Spinal Cord Stimulation
Dr. Kraus is double board-certified in Anesthesiology and Pain Management specializing in the diagnosis and treatment of common spinal, nerve and musculoskeletal disorders including pre-and post-surgical pain, discogenic, radicular pain and shingles.
With more than 20 years experience, Dr. Kraus provides the latest in interventional spine procedures including epidural steroid injections for the cervical, thoracic and lumbar spine, caudal epidural injections, facet and sacroiliac joint injections, medical branch blocks, radiofrequency ablation and spinal cord stimulator implantation.
Dr. Kraus received his Doctor of Osteopathic Medicine from Ohio University in 1987 and went on to complete a degree in Bio-Medical Engineering at Purdue University. He then completed his Anesthesiology Residency and Pain Management Fellowship at Cleveland Clinic Foundation where he served as Chief Pain Fellow prior to moving to Huntsville in 1994. Most recently, Dr. Kraus completed a Masters in Business Administration at the University of Notre Dame.
Dr. Kraus rejoins our practice where he previously served as Medical Director and as Vice Chairman of the Department of Anesthesia at Huntsville Hospital Center for Pain Management from 1994-2001.
Specialty
Anesthesiology & Pain Medicine
Board Certified
Anesthesiology & Pain Management
American Board of Anesthesiology
Residency
Anesthesiology
Cleveland Clinic Foundation
Fellowship
Pain Management,  Cleveland Clinic Foundation, Chief Fellow
Medical Degree
Doctor of Osteopathic Medicine
Ohio University
Undergraduate Degree
Bio-Medical Engineering
Hospital Appointments
Crestwood Hospital
Madison Surgery Center
Professional Associations
International Spinal Injection Society